Posts for: February, 2018
By Stephen J. Wessels, DMD
February 16, 2018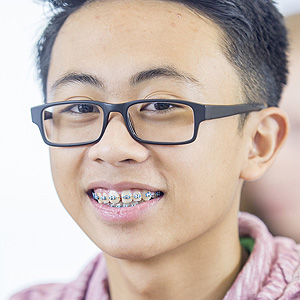 It's a common sight to see someone wearing braces—and not just teens or pre-teens. In the last few decades, people in their adult years (even late in life) are transforming their smiles through orthodontics.
If you're an adult considering treatment to straighten your teeth, this particular dental specialty might be an unfamiliar world to you. Here are 3 things you may not know about orthodontics.
Orthodontic treatment cooperates with nature. There would be no orthodontics if teeth couldn't move naturally. Teeth are actually held in place by an elastic tissue called the periodontal ligament that lies between the teeth and bone. Small fibers from the ligament tightly attach to the teeth on one side and to the bone on the other. Although it feels like the teeth are rigidly in place, the ligament allows for micro-movements in response to changes in the mouth. One such change is the force applied by orthodontic appliances like braces, which causes the bone to remodel in the direction of the desired position.
Treatment achieves more than an attractive smile. While turning your misaligned teeth into a beautiful, confident smile is an obvious benefit, it isn't the only one. Teeth in proper positions function better during chewing and eating, which can impact digestion and other aspects of health. Misaligned teeth are also more difficult to keep clean of bacterial plaque, so straightening them could help reduce your risk of tooth decay or periodontal (gum) disease.
Possible complications can be overcome. Some problems can develop while wearing braces. Too much applied force could lead to the roots dissolving (root resorption), which could make a tooth shorter and endanger its viability. Braces can also contribute to a loss of calcium in small areas of tooth enamel, which can make the teeth more vulnerable to oral acid attack. However, both these scenarios can be anticipated: the orthodontist will watch for and monitor signs of root resorption and adjust the tension on the braces accordingly; and diligent oral hygiene plus regular dental cleanings will help prevent damage to the tooth enamel.
If you're dreaming of a straighter and healthier smile, see us for a full examination. We'll then be able to discuss with you your options for transforming your smile and your life.
If you would like more information on orthodontic treatment, please contact us or schedule an appointment for a consultation. You can also learn more about this topic by reading the Dear Doctor article "Moving Teeth with Orthodontics."
By Stephen J. Wessels, DMD
February 01, 2018
The CAT scan is a relatively recent technique in dentistry, used to get an image of what's happening deep within your jaws. You may be wondering what a CAT scan tells us that a conventional x-ray picture does not, and whether it is worth the extra expense to get one. And how does a CAT scan compare with a conventional x-ray in terms of radiation exposure?
CAT stands for "computer assisted tomography." Often it's just called a CT scan, for "computerized tomography." The word "tomography" comes from roots meaning "slice" and "write." Tomographic techniques take repeated two dimensional pictures, similar to repeatedly slicing through an object, and then assembles them with a computer to produce a three dimensional (3-D) image.
The latest type of CT scan used in dentistry is called CBCT, or Cone Beam Computed Tomography. The Cone Beam refers to a spiral beam of x-rays, which is used to create a series of two dimensional images from which a computer creates a 3-D image. Such an image is of great value in assessing problems and planning treatment.
Here are just a few examples of how a CBCT scan can be used. Orthodontists can see skeletal structures and developing teeth that are still inside the jawbone while planning strategies for directing the teeth in order to arrive at a better bite. Oral surgeons can find impacted or missing teeth, see their locations, and view their proximity to nerves and sinuses, assisting them in planning surgeries. These scans are particularly useful for root canal specialists because they show root canals that are less than a millimeter wide and even reveal accessory canals that may not be visible on conventional x-rays. In cases of sleep disorders such as sleep apnea, a CBCT during sleep can be used to view a person's airway and how it may be blocked by the tongue and other soft tissues in a person's throat during sleep.
Compared to background radiation, the amount of radiation delivered in dental x-rays is minimal. A CBCT delivers a dose of radiation that is less than a typical full mouth x-ray series but more than a typical two dimensional panoramic radiograph. Generally CBCT scanners deliver lower doses than medical CT scanners.
With one low-dose CBCT scan, we can get an accurate idea of the internal structure of your bones and teeth and how they are situated in relation to each other. Prior to the availability of such images, many of these relationships had to be discovered in the course of a surgery or other treatment. Thus such a scan can aid greatly in the quality of treatment you will receive.
Contact us today to schedule an appointment or to discuss your questions about 3-D scans in dentistry. You can also learn more by reading the Dear Doctor article, "CAT Scans in Dentistry."